All images by MatadorU Student Kristen Bor
Nothing against rocks. I love rocks. In fact, on the John Muir Trail, the presence of a good rock was often the deciding factor in whether a spot made for a good campsite or not. Having something to prop up your back while chowing down on that Mountain House Meal was of utmost importance.
Sometimes though, those rocks just don't cut it. Car camping, river trips, short overnighters, fireside sessions. Times when you just want a little extra dose of comfort.
Introducing the Big Agnes Helinox Swivel Chair
I was excited when I recently got my hands on the new Big Agnes Helinox Swivel Chair and decided to take it for a spin on my recent backpacking trip to Havasupai Indian Reservation. I have to say, these guys know how to make a good lightweight chair. Using the same aluminum alloy materials that Big Agnes uses for their tent poles, they have packed a durable, 360-degree swivel chair in a 2.9 pound package that's really no bigger than the Sunday paper.
One of the best parts about the Big Agnes Helinox Swivel Chair is how quick and easy it is to put together. With a little practice, you could be kicking back in less than a minute flat. Watch my quick video below to see what I'm talking about.
See…it's a total cinch.
As for the comfort level, the convex shape of the chair provided proper back support and a pleasant place to rest my tush. It also breathes well in warm weather thanks to the mesh fabric that runs along the sides of the chair. The only thing I found myself wishing was that it had an arm rest. But hey…I think I'm probably starting to sound just a little bit spoiled :)
There are dozens of scenarios when the swivel comes in handy. For instance, when you need to reach over to grab a cold beer from the cooler. Or the when campfire smoke starts blowing in your eyes. Oh, you like to fish? Think about when you are sitting by the river with your fishing pole and want to put a little oomph in your cast. I didn't realize how clutch a swiveling chair really was until I used one.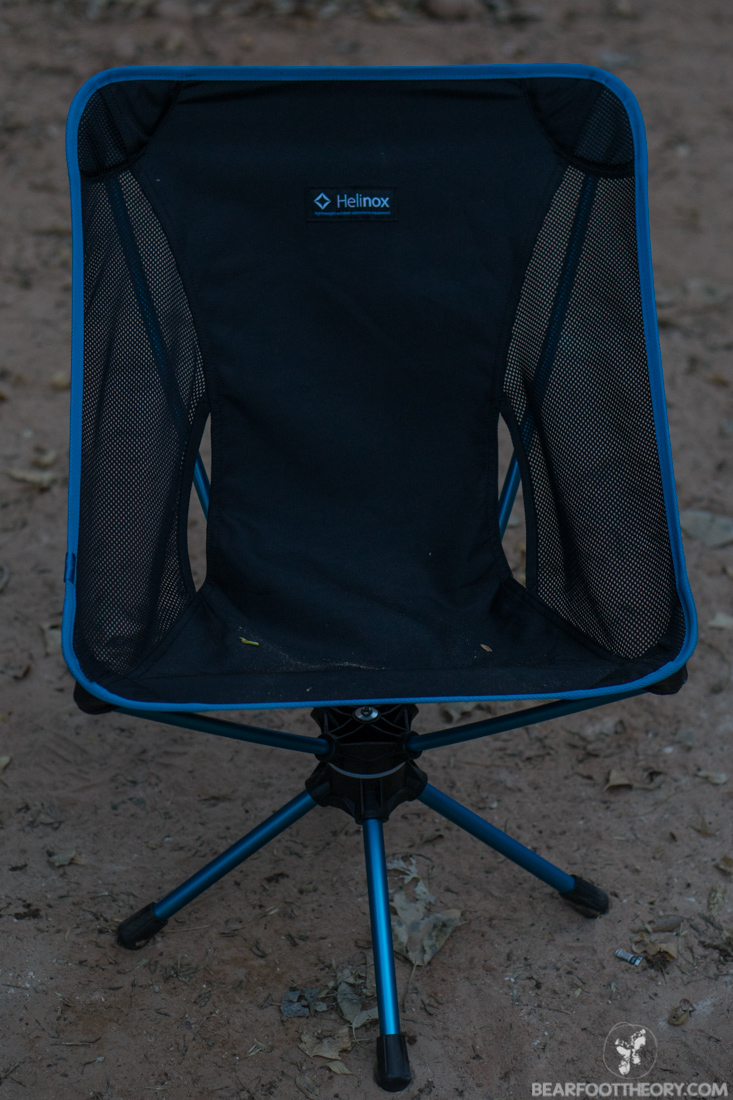 MY FINAL TAKE

At 2.9 pounds, is it light enough to carry on a 20 mile backpacking trip? Maybe not. But for car camping, beach getaways, star gazing, or even backyard BBQs, the Big Agnes Helinox Swivel Chair is now my go-to.
If you are planning on using your chair in the sand or on soft ground, check out the accessory Ball Feet which will help prevent the chair from sinking.
Note: Big Agnes sent me this chair at no cost, but as always, all of the opinions expressed here are my own.