Photos by MatadorU student Brian Lewis
I hate armbands.
They are ridiculously awkward to put on one-handed and make me feel like I'm running with a way-too-tight blood pressure cuff strapped to my bicep – not to mention tangled headphone cords wrapped around my elbow. When running, I'd much rather keep the weight of what I'm carrying on my waist where it feels much more balanced and securely connected to my body.
That's why when Running Buddy sent me their new Buddy Pouch, I was happy to give it a try as I'd been looking for a small waist pouch for shorter runs when my larger hydration belt would be overkill.
When first opening the package, I was impressed by the construction quality. The Buddy Pouch is made of dri-fit material with a water-resistant inner compartment and has two very strong vertical magnets that attach securely to the waistband of your shorts or pants. It's a perfect size for a phone, car keys, ID and maybe an energy bar or gel.
I first tried it out on a short four mile run through my neighborhood with just my iPhone and house key in the pouch. It was quick and easy to attach to my shorts – the magnets snapped into place perfectly, my headphone cord threaded perfectly under my shirt and I was out the door with much less frustration than my typical armband routine. Once running, the pouch had a little bounce when attached at my back, but much less when I slid it around to the front. My only complaint was the weight would pull my shorts down slightly, but that is mainly a problem of my shorts being too loose in the first place.
Beyond running, the Buddy Pouch also makes an ideal travel companion. On a recent trip to France it was perfect for holding a passport, credit cards and other essentials during travel. And during daily excursions around the city, it securely and discretely held some cash, cards and my phone right under my belt buckle and kept those notorious Paris pickpockets away. I was even able to use it on a beautiful early morning run from our apartment, passing the Pantheon and a few laps around the crushed gravel paths in Jardin de Luxembourg.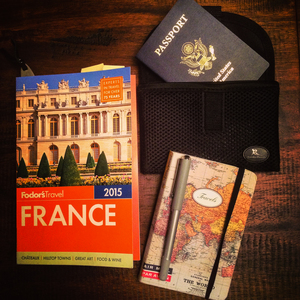 Bottom Line: I can't say that the Buddy Pouch will go with me on every run, but for short workouts when water isn't necessary, but I still want my phone and a few essentials, it's a perfect, secure solution with none of the hassles of the dreaded armband. And bonus points for doing double duty as a secure "money belt" solution for international travel.
Find it: http://www.therunningbuddy.com/collections/2015-buddy-pouch
Multiple sizes and colors available
MSRP: $29.99
Running Buddy sent me this complimentary product for review. As always, all opinions are my own.